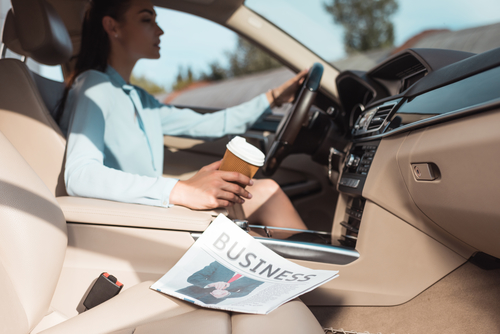 Originally posted on https://www.joebowmanautoplaza.com/blog/7-car-noises-what-they-mean-and-what-615100
It could be a bang, a clank, a rattle, or that funny noise you can't describe, cars and trucks have a unique way of talking to us.
Car problems can be tough to diagnose because one problem can cause several symptoms. Conversely, multiple problems can have one symptom. As a new and used car dealership here in Harrisonburg, our service department has literally heard it all!
And we're here to tell you that those noises are your car's way of telling you it needs attention. That's why we've rounded up our 7 favorite weird car noises and what you should do when you hear them.
1-The Banshee Squeal When You Brake and Under the Hood
You know that high pitched squeal that comes from your tires when you step on the brake? That's your brake pad indicator getting way too cozy with the rotor. It's actually rubbing up against the rotor.
While this isn't an emergency, your brake pad indicator is letting you know that your brake pads have worn down and need to be replaced. You're not in immediate danger, but you do need to make an appointment for a brake service and inspection. We recommend doing so before the squeal turns into a howl.
The other banshee squeal is the one that comes from under the roof. This is a classic sign of a worn or lose serpentine belt. This is definitely cause for concern! The serpentine belt powers all of your car's major systems.
That squeal is the belt warning you that it's about to break. And that's bad because when a serpentine belt breaks, you're left with a car that won't go. Literally. It's best to make an appointment pronto to get this attended to.
2-Sounds Like A Grumpy Cat
No, not that Grumpy Cat. The one that sounds like " rur rur rur," when you try to start the engine. That's the battery telling you it's losing juice and having a hard time powering the engine.
This is not so much a safety issue as it is a convenience issue. The battery is failing, you just don't know when it will fail, leaving you in a lurch. You don't know if the failure is due to age, low on fluid, or if it needs a jump.
Head on over and visit our service department. One of our certified Chevy mechanics will find out how much life is left in your battery.
3-Your Rear Has a Roar and A Rumble
It's a loud roaring sound that's coming from under the driver's seat somewhere. Most likely, you have a crack or leak in your exhaust system's manifold.
That roaring would normally be silenced by the muffler. But when the exhaust system fails, your engine's vibrations and sound waves get funneled into the car. So how serious is it?
Well, your driver's seat is vibrating like one of those fancy massage chairs, so there's that. But you can't let this noise slide. A malfunctioning exhaust system can leak poisonous carbon monoxide. So, get this checked out pronto!
4-That Fish Out of Water Sound
This one happens when you run the air conditioner or blowers. It sounds like a slapping or flapping sound. That's the result of a loose, misaligned, or worn out flap.
While not a big deal, it may impact your airflow. It could also drive you a little crazy, but it's not a serious issue. Fix this one when you've had enough of that fish flapping sound.
5-A Huge Groaning Yawn
When you turn the steering wheel, the car whines and groans. It sounds like it just woke up from a long winter's nap. The steering wheel may also seem unresponsive and stiff. What the heck is going on?
There's something in your power steering system causing friction. If you let this problem go, you'll slowly lose control over the steering. Worse, you can cause further damage to the rest of the power steering system.
Obviously, this is a significant safety problem. Bring your vehicle in and our Chevy service center will fix you right up.
6-Right. Left…And Squeak!
When your steering column squeaks as you turn the wheel, it's an indicator that there is an issue with the power steering. A light squeak is not as concerning as a major groan (see #5).
Power steering fluid is inexpensive. So, change it as needed and keep it topped off. That will help extend the life of your steering column. If replacing the fluid doesn't work, there may be a leak in the power steering lines. Keep a careful eye on it!
7-A Metal Show or My Brakes?
That loud, grinding metal noise is actually coming from your brakes! And that's bad news. You've worn clean through your brake pads. Now the calipers are grinding against the rotors. You need to get this taken care of ASAP.
According to the National Highway Traffic Safety Administration, 25% of vehicle crashes are attributed to degraded or failing brakes. Regular maintenance is the answer to avoiding this problem!
At Joe Bowman Auto Plaza, we're big believers in regular maintenance to keep your vehicle running smoothly. But we also know that weird noises pop up, too!
For both maintenance and car issues, we're here to get you back on the road and driving safely.
Information contained on this page is provided by an independent third-party content provider. Frankly and this Site make no warranties or representations in connection therewith. If you are affiliated with this page and would like it removed please contact pressreleases@franklymedia.com