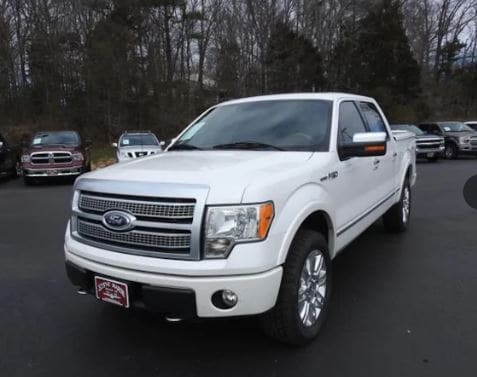 Originally posted on: https://www.stevemarshfordsales.com/blog/2019/february/27/used-truck.htm
Did you know that when you buy a new car that same car can be worth as little as 40% of its original price after five years?
It's no wonder that more people are looking at their options between a used or a new vehicle.
Are you thinking about buying a used truck?
Before you make the purchase, keep reading to learn the top tips for buying a used truck.
Best Axle Layout
Trucks have different axle layouts depending on the load you will be carrying. If you're going to be towing long distances through difficult terrains, then you want a more heavy duty truck.
If it's going to be for shorter trips without towing something, then you can choose a smaller truck.
Was the Truck Previously Used for Towing or Hauling?
This is a question you want to ask because if a truck was for towing 50,000+ miles then the mechanical components of the truck have more wear and tear. The person selling the used truck might not tell you the whole truth and the dealer might not know because the owner didn't disclose this information.
You can take the truck for a mechanical inspection if you see signs of a lot of towing. A few signs that it has been for towing include a worn tow hitch and wiring for trailer's brake lights.
Has It Been Used for Off-Road?
You can go under the truck and look for scratches, bent parts, and scrapes for signs that it was used for off-road adventures. Trucks used for off-roading causes wear to the trucks chassis, suspension, and other components.
This doesn't mean to avoid the truck it's just a sign to inspect its mechanical components a little more or have a professional inspect it.
Maintenance History
Ask the dealer or the person you're buying the truck from for a copy of the maintenance history. You'll want to check if the truck has had regular oil changes, regular tune-ups. You'll also want to check if any major parts have been replaced on the truck.
Checking the maintenance history will help you know what to expect for future wear and tear. Checking for regular oil changes will give you an idea if the previous owner did poor maintenance.
Rust
You want to check if there are any signs of rust on the exterior of the truck. Also, check the doorframes for any rust evidence. If there's rust it can be a sign that the previous owner didn't maintain the truck very well.
If there are any raised patches on the paint it can indicate that there's rust underneath.
Tire Tread
Checking the tires is another important part of the inspection when you're looking to buy a used truck. You can ask how many miles have been put on the current tires. This will give you an idea of when they are due for replacement.
Truck tires are larger and more expensive and if you need to replace them in the near future consider this as an expense you'll have to make soon.
Body Damage
Make sure when you're looking for body damage it's not raining and it's a clear sunny day. Don't inspect the truck indoors or in the dark to avoid overlooking body damage. Body damage can be a sign of a previous accident.
If there has been a previous accident you'll want to know how bad it was and how long ago.
Mileage
Consider how many miles the truck has because that along with the type of engine it has is an indicator of when an engine rebuild might be required. Take into account what you'll be using the truck for. If you'll be using the truck for short distances, then having higher mileage won't be a big deal.
If you're going to use the truck for long hauls, then lower mileage might be the better option. If a truck is well taken care of by the previous owner even if it has high miles it will still have a lot of life left.
Budget for Repairs
You'll want to take into account that the truck is used so there might be additional repairs after you buy the truck. Be prepared for extra repairs and add them to your budget.
The last thing you want is to spend all your money on your new to you truck and have no money left for an unexpected issue.
Explore Finance
If you're going to pay all cash for your truck you don't have to worry about finance but if you're putting a down payment and financing the rest you'll want to make sure you pick a truck that lenders will finance.
Certain lenders require an official inspection to meet certain requirements. If you choose to buy your used truck from a dealer they are a big help when it comes to your finance options.
Walk Away If You Have To
If anything feels uncertain or the previous owner is hesitant to give you maintenance records or won't allow you to have the truck inspected then it might be a sign to walk away.
Sometimes you have to move on to the next truck to save yourself time, money, and stress later on.
Choose a Reputable Used Truck Seller
When you purchase a used truck there's a myriad of things to consider and look at. You have truck history to look at, oil changes, rust spots, etc it can be an overwhelming and emotional process. Buying from a reputable dealer or seller will make the process easier and smoother.
Here at Steve Marsh Ford, we provide a wide variety of inventory to choose from. Contact us today for your future truck.
Categories: Pre-Owned Inventory
Tags: used truck
Search Blog
Subscribe to Our Blog
Popular Tags
2017 ford gt 2018 ford gt 2018 ford mustang gt 2019 Ford F-150 2019 ford gt 2019 ford gt carbon series 2019 ford gt heritage 2019 ford mustang 2019 ford mustang bullitt 2019 ford mustang ecoboost 2019 ford mustang gt 2019 ford mustang gt premium 2019 mustang 2019 mustang gt bad credit bad credit car loans buying a car with bad credit Custom ford F-150 F-150 Ford ford bronco Ford F-150 ford gt ford gt 2018 ford gt review ford gt top speed ford mustang ford mustang gt ford mustang gt 2019 getting a car loan with bad credit
Share
*Although every reasonable effort has been made to insure the accuracy of the information contained on this site, absolute accuracy cannot be guaranteed. This site, and all information and materials appearing on it, are presented to the user "as is" without warranty of any kind, either express or implied. All vehicles are subject to prior sale. Price does not include applicable tax, title, license, and destination charges.
Copyright 2019 FordDirect
Information contained on this page is provided by an independent third-party content provider. Frankly and this Site make no warranties or representations in connection therewith. If you are affiliated with this page and would like it removed please contact pressreleases@franklymedia.com